Best Bookmarking App for Android and iOS iPhone

This is why GoFastLinks should be your go-to bookmarking app! 
Online reading has been a massive hit for quite a while now. But, do you remember the last time you've read through a whole article?  Obviously, you can get lost in the sea of online material and forget to save what you've been eagerly researching and reading.
But don't worry, there's a solution to this problem. You can simply have a top-notch bookmarking app installed on your Android or iPhone to save your important web page links.
Speaking of which, GoFastLinks is the pre-eminent bookmarking app that you can use to save your all-time favorite website links and to store them safely for your future reference.
This is why GoFastLinks is your best bet at bookmarks and links hoarding!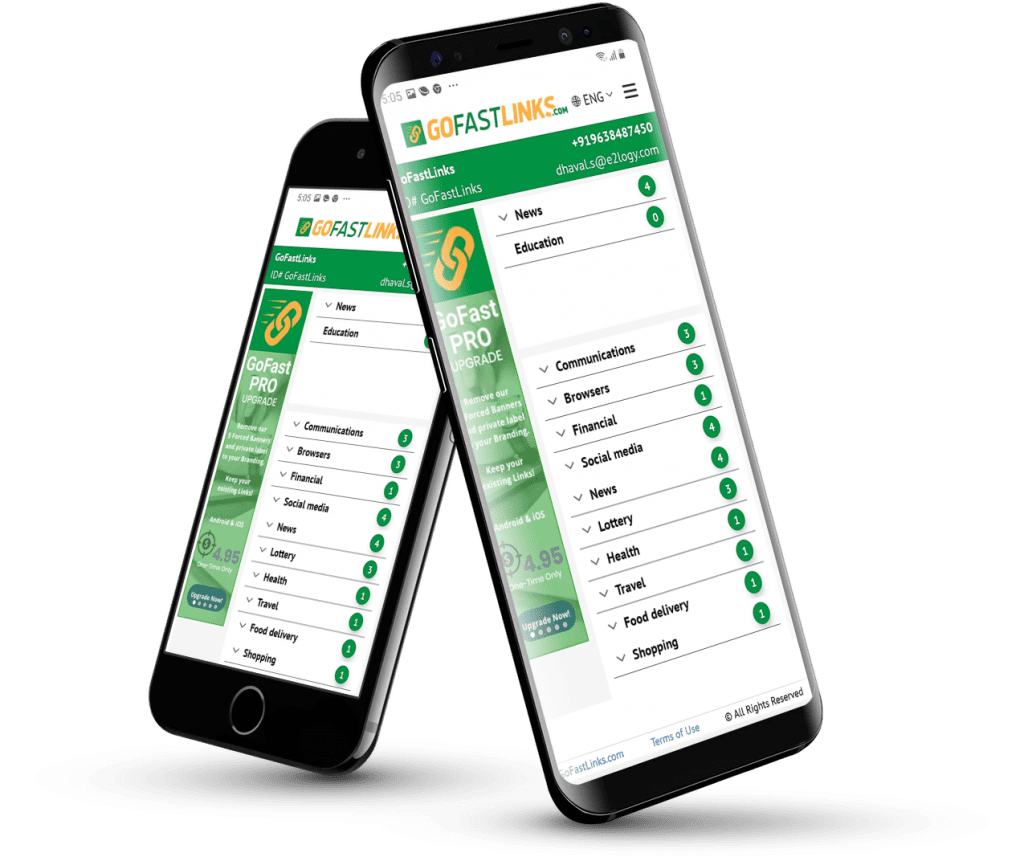 Why GoFastLinks?
Why is GoFastLinks the Best Bookmarking App for Android and Apple iOS?  If you need to reach your favorite web page extra fast, then GoFastLinks is the ideal choice.
With GoFastLinks, you have the complete freedom to add your own categories and links to the app. You won't have any problem customizing and organizing the links that cater to your personal, family, religious, or business needs.
Whenever you visit a valuable web URL (web page), you can grab it and paste it into GoFastLinks as a bookmark link for later reviewing. As an example, you might regularly read the news from multiple different news providers.
Once your numerous links are saved in GoFastLinks, they become only a simple button click to load each news provider's website. See how easy it is. Now think of the other applications for GoFastLinks such as Locked Links for all family members, quick links to your business pages, and your personal interest websites.
What's more, you can load the links easier and faster. No more fumbling around trying to type long URL's into your tiny little phone keyboard… grrr!
The GoFastLinks application is incredibly user friendly, and you'll be using the app to jump to your favorite web pages without a hassle right of the bat just one or two button clicks. The other crucial feature is that you will be notified regularly with new tips, tricks, and improvements.
Changing to your preferred language in your app has never been easier. From the dropdown menu, you can choose French, Spanish, Thai, Chinese, or one of seventeen languages, and then rapidly get to work!
GoFastLinks bookmark app is compatible with Android and Apple iOS. Whether you're on your phone or the tablet, GoFastLinks got you covered!
GoFastLinks has reasonable plans 
Free GoFastLinks app
As a free GoFastLinks user, you can add your own Categories and Links.
You can refer other users to become a PRO User. You'll receive a $1 Referral Reward and receive a $10 Referral Reward for those who choose to upgrade to the PRO-PLUS+ package.
To receive your GoFastLinks "Referral Rewards," all you need to do is register, promote your business with your unique GoFastLinks ID code. And then share your positive feedback on GoFastLinks among your circle of friends and business contacts. No cost and absolutely no strings attached!
In this plan, apart from every free user account benefit, you choose your own branding, your personal locked links, and your own logo.
Moreover, you can replace the 5 default banners with your own banners, customize header colors, and font colors to promote your business or affiliation.
Suppose you choose to go with the PRO-PLUS+ Upgrade. In that case, you'll gain the ability to have multiple organizations (accounts) controlled by the same account. Simply select the account from the dropdown menu.
The PRO-PLUS+ Upgrade further lets you assign a Password Category Lock for your private bookmarks and links.
Opting for PRO-PLUS+ Upgrade will drastically save your time. It allows you to save any link in the form of a bookmark by just a matter of a click on the browser share button.
What's even more exciting is that you get all the future PRO-PLUS+ Upgrades for free, forever! (Limited time promotion)
All these 3 plans do NOT require any selling either!
Do you need to upgrade? 
Download the GoFastLinks free version from Apple Store or Google Play and open it. Then select "Upgrade" to have a secure upgrade process that is exclusively handled by Google or Apple.
Summing Up 
If you are interested in finding the Best Bookmarking App for Android and iOS iPhone, you've stumbled upon the greatest in the business.
Simply go to gofastlinks.com, to access links to download GoFastLinks for your Android or Apple iOS phone.
Don't wait too long to witness the efficiency of GoFastLinks, try it today, you'll love it!