Want a Faster Way to Access Your Favorite Website pages?
"Mobile devices do not provide fast access to your favorite web pages"
Loading webpages can be very frustrating!
Organize your favorite website links and save them for later viewing
You Will Be Amazed
And, you will immediately start enjoying the benefits of GoFastLinks
Add Your Links
What is great about our links manager is that you can add your own categories and links, the ones you use daily.  Categorize and organize your favorite links to suit your personal lifestyle, family, and business needs.
Easily Bookmark for Later
As you view Content on the web, you can quickly copy the web-link (URL) and add it to your GoFastLinks bookmark for later use.  It is as easy as copy and paste.
Access Your Favorites Quickly
Load the links you need faster, save links from deals or coupons that could save you money.  Save favorites according to your individual and professional needs, and much more.
Apple iOS and Android
The GoFastLinks bookmark app is available for both Android and Apple iOS, on your mobile phone or tablet.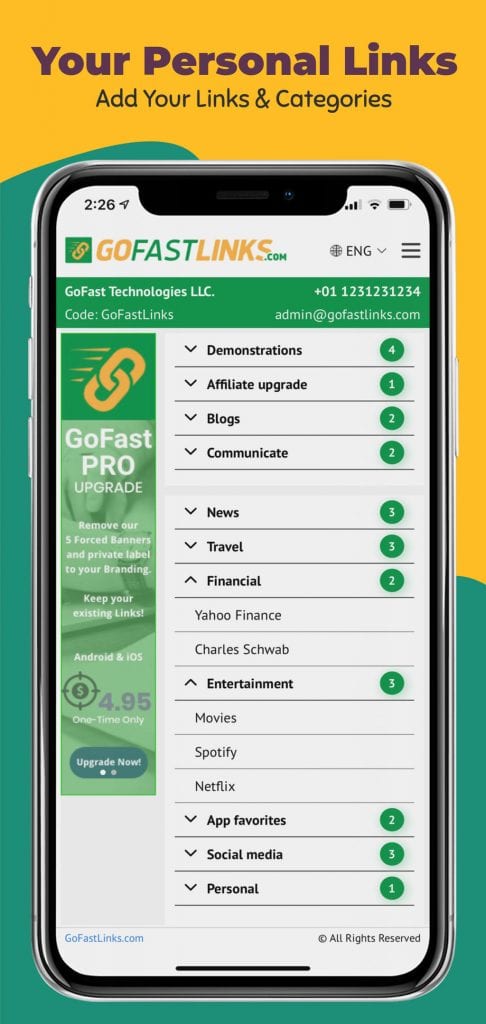 Free To Use
GoFastLinks is free to use and free to distribute
User Friendly
GoFastLinks is so easy to use, you'll be using it immediately
Notifications
You will receive notifications of tips, tricks, and improvements
Questions For GoFastLinks?
If you have any ideas or questions that we can share with other users and add to our FAQ system, this is the place to do it.